ArcToolbox Tool: Add [ST_CON_ABR] to Hennepin County, MN Centerlines
-
One of the great advancements over the last decade plus in GIS is that government agencies have started to move away from a 'recover-our-cost' mentality to more of an 'Open Data'. Minnesota, for example, has launched their Geospatial Commons as a platform for sharing data.
And while getting free, authoritative data is awesome, it can leave you in a bind if the structure of the data changes. Sometime between April and September, Hennepin County, Minnesota, changed the schema of their publicly available street centerlines data.
The data used to have both a full, concatenated street name field ([ST_CONCAT]) and an abbreviated version ([ST_CON_ABR]). A record might have 'James Lofton Avenue North' and 'James Lofton Ave N', respectively, in these two fields. The abbreviated version was nice for labeling but it disappeared from the most recent updates.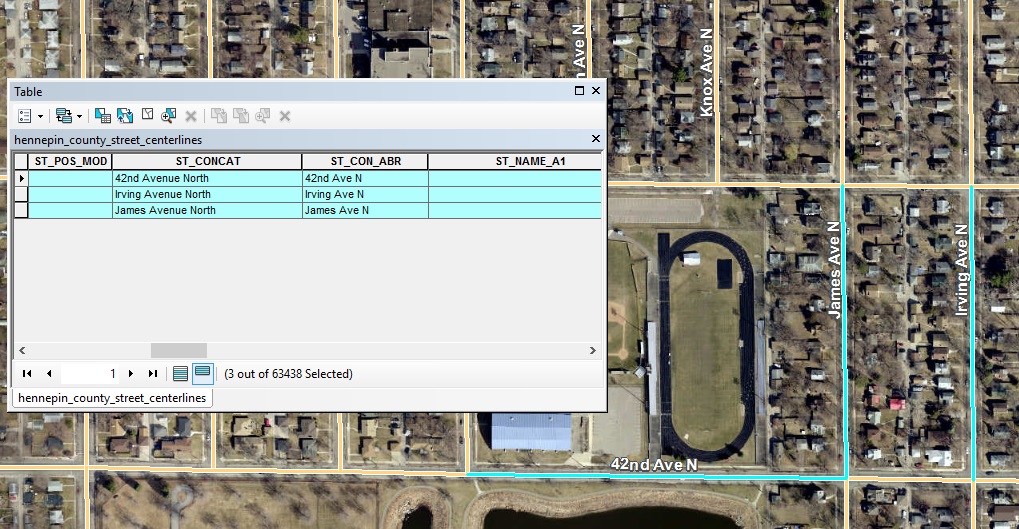 So, as you  might guess from the fact that I'm posting about it, I wrote a script to add that field in and launch it from an ArcToolbox Tool. Nothing fancy going on in the code, just a series of replaces, depending on the field. Using dictionaries instead of arrays of paired values might have been better but the script takes just a few seconds to run so I can live with it as-is.
The list of street type abbreviations came from a combination of ESRI's standards and those found in an older version of the Hennepin County data. There were no conflicting abbreviations between the two. The code warns if a street name occurs in the data that is not in the list.
While I'm including the code here for reference, it's probably best to download the code from GitHub.
#-------------------------------------------------------------------------------




# Name:        usi_dataprep_Add_STCONABR




#




# Purpose:     This can be used to add [CT_CON_ABR] to Hennepin County, MN




#              centerlines. This is a concatenated, abbreviated full name of




#              the street. This used to be included in the data but




#              disappeared from the downloads in the summer of 2017.




#




#              Data available at: http://www.hennepin.us/gisopendata




#




# Author:      mrantala




#




# Created:     2017.10.04




#




#------------------------------------------------------------------------------





import

 arcpy



############################################




## Custom Variables




#These are the fields that are concatenated. Hennepin has others but were always blank.


requiredFieldList 

=

 [

"ST_PRE_DIR"

,

"ST_PRE_TYP"

,

"ST_NAME"

,

"ST_POS_TYP"

,

"ST_POS_DIR"

]


#This is the name of the field to add


newFieldName 

=

 

"ST_CON_ABR"





#These are the abbreviations for [ST_POS_TYPE]. The list was created using a sample of




#Hennepin's centerline data & Esri Tech article: http://support.esri.com/en/technical-article/000008454




# Note that I intentionally left cases in where there is no abbreviation (Fall, for example) as a means of




#documenting the fact that it should NOT change.



abbList 

=

 []
abbList

.

append([

"Alcove"

,

"Alcove"

]) 

#Hennepin Specific


abbList

.

append([

"Alley"

,

"Aly"

])
abbList

.

append([

"Annex"

,

"Anx"

])
abbList

.

append([

"Arcade"

,

"Arc"

])
abbList

.

append([

"Avenue"

,

"Ave"

])
abbList

.

append([

"Bay"

,

"Bay"

]) 

#Hennepin Specific


abbList

.

append([

"Bayoo"

,

"Byu"

])
abbList

.

append([

"Beach"

,

"Bch"

])
abbList

.

append([

"Bend"

,

"Bnd"

])
abbList

.

append([

"Bluff"

,

"Blf"

])
abbList

.

append([

"Bluffs"

,

"Blfs"

])
abbList

.

append([

"Bottom"

,

"Btm"

])
abbList

.

append([

"Boulevard"

,

"Blvd"

])
abbList

.

append([

"Branch"

,

"Br"

])
abbList

.

append([

"Bridge"

,

"Brg"

])
abbList

.

append([

"Brook"

,

"Brk"

])
abbList

.

append([

"Brooks"

,

"Brks"

])
abbList

.

append([

"Burg"

,

"Bg"

])
abbList

.

append([

"Burgs"

,

"Bgs"

])
abbList

.

append([

"Bypass"

,

"Byp"

])
abbList

.

append([

"Camp"

,

"Cp"

])
abbList

.

append([

"Canyon"

,

"Cyn"

])
abbList

.

append([

"Cape"

,

"Cpe"

])
abbList

.

append([

"Causeway"

,

"Cswy"

])
abbList

.

append([

"Center"

,

"Ctr"

])
abbList

.

append([

"Centers"

,

"Ctrs"

])
abbList

.

append([

"Crossings"

,

"Crossings"

]) 

#Hennepin Specific


abbList

.

append([

"Crossroad"

,

"Xrd"

])
abbList

.

append([

"Chase"

,

"Chase"

]) 

#Hennepin Specific


abbList

.

append([

"Circle"

,

"Cir"

])
abbList

.

append([

"Circles"

,

"Cirs"

])
abbList

.

append([

"Cliff"

,

"Clf"

])
abbList

.

append([

"Cliffs"

,

"Clfs"

])
abbList

.

append([

"Club"

,

"Clb"

])
abbList

.

append([

"Close"

,

"Close"

]) 

#Hennepin Specific


abbList

.

append([

"Common"

,

"Cmn"

])
abbList

.

append([

"Commons"

,

"Cmns"

]) 

#Hennepin Specific


abbList

.

append([

"Corner"

,

"Cor"

])
abbList

.

append([

"Corners"

,

"Cors"

])
abbList

.

append([

"Corridor"

,

"Corridor"

]) 

#Hennepin Specific


abbList

.

append([

"Course"

,

"Crse"

])
abbList

.

append([

"Court"

,

"Ct"

])
abbList

.

append([

"Courts"

,

"Cts"

])
abbList

.

append([

"Cove"

,

"Cv"

])
abbList

.

append([

"Coves"

,

"Cvs"

])
abbList

.

append([

"Creek"

,

"Crk"

])
abbList

.

append([

"Crescent"

,

"Cres"

])
abbList

.

append([

"Crest"

,

"Crst"

])
abbList

.

append([

"Cross"

,

"Cross"

]) 

#Hennepin Specific


abbList

.

append([

"Crossing"

,

"Xing"

])
abbList

.

append([

"Curve"

,

"Curve"

])
abbList

.

append([

"Dale"

,

"Dl"

])
abbList

.

append([

"Dam"

,

"Dm"

])
abbList

.

append([

"Divide"

,

"Dv"

])
abbList

.

append([

"Down"

,

"Down"

]) 

#Hennepin Specific


abbList

.

append([

"Downs"

,

"Downs"

]) 

#Hennepin Specific


abbList

.

append([

"Drive"

,

"Dr"

])
abbList

.

append([

"Drives"

,

"Drs"

])
abbList

.

append([

"Edge"

,

"Edge"

]) 

#Hennepin Specific


abbList

.

append([

"Entry"

,

"Entry"

]) 

#Hennepin Specific


abbList

.

append([

"Estate"

,

"Est"

])
abbList

.

append([

"Estates"

,

"Ests"

])
abbList

.

append([

"Expressway"

,

"Expy"

])
abbList

.

append([

"Extension"

,

"Ext"

])
abbList

.

append([

"Extensions"

,

"Exts"

])
abbList

.

append([

"Fall"

,

"Fall"

])
abbList

.

append([

"Falls"

,

"Fls"

])
abbList

.

append([

"Ferry"

,

"Fry"

])
abbList

.

append([

"Field"

,

"Fld"

])
abbList

.

append([

"Fields"

,

"Flds"

])
abbList

.

append([

"Flat"

,

"Flt"

])
abbList

.

append([

"Flats"

,

"Flts"

])
abbList

.

append([

"Ford"

,

"Frd"

])
abbList

.

append([

"Fords"

,

"Frds"

])
abbList

.

append([

"Forest"

,

"Frst"

])
abbList

.

append([

"Forge"

,

"Frg"

])
abbList

.

append([

"Forges"

,

"Frgs"

])
abbList

.

append([

"Fork"

,

"Frk"

])
abbList

.

append([

"Forks"

,

"Frks"

])
abbList

.

append([

"Fort"

,

"Ft"

])
abbList

.

append([

"Freeway"

,

"Fwy"

])
abbList

.

append([

"Gables"

,

"Gables"

]) 

#Hennepin Specific


abbList

.

append([

"Garden"

,

"Gdn"

])
abbList

.

append([

"Gardens"

,

"Gdns"

])
abbList

.

append([

"Gate"

,

"Gate"

]) 

#Hennepin Specific


abbList

.

append([

"Gateway"

,

"Gtwy"

])
abbList

.

append([

"Glade"

,

"Glade"

]) 

#Hennepin Specific


abbList

.

append([

"Glen"

,

"Gln"

])
abbList

.

append([

"Glens"

,

"Glns"

])
abbList

.

append([

"Green"

,

"Grn"

])
abbList

.

append([

"Greens"

,

"Grns"

])
abbList

.

append([

"Greenway"

,

"Greenway"

]) 

#Hennepin Specific


abbList

.

append([

"Grove"

,

"Grv"

])
abbList

.

append([

"Groves"

,

"Grvs"

])
abbList

.

append([

"Harbor"

,

"Hbr"

])
abbList

.

append([

"Harbors"

,

"Hbrs"

])
abbList

.

append([

"Haven"

,

"Hvn"

])
abbList

.

append([

"Heights"

,

"Hts"

])
abbList

.

append([

"Highway"

,

"Hwy"

])
abbList

.

append([

"Hill"

,

"Hl"

])
abbList

.

append([

"Hills"

,

"Hls"

])
abbList

.

append([

"Hollow"

,

"Holw"

])
abbList

.

append([

"Horn"

,

"Horn"

]) 

#Hennepin Specific


abbList

.

append([

"Inlet"

,

"Inlt"

])
abbList

.

append([

"Island"

,

"Is"

])
abbList

.

append([

"Islands"

,

"Iss"

])
abbList

.

append([

"Isle"

,

"Isle"

])
abbList

.

append([

"Junction"

,

"Jct"

])
abbList

.

append([

"Junctions"

,

"Jcts"

])
abbList

.

append([

"Key"

,

"Ky"

])
abbList

.

append([

"Keys"

,

"Kys"

])
abbList

.

append([

"Knoll"

,

"Knl"

])
abbList

.

append([

"Knolls"

,

"Knls"

])
abbList

.

append([

"Lake"

,

"Lk"

])
abbList

.

append([

"Lakes"

,

"Lks"

])
abbList

.

append([

"Land"

,

"Land"

])
abbList

.

append([

"Landing"

,

"Lndg"

])
abbList

.

append([

"Lane"

,

"Ln"

])
abbList

.

append([

"Light"

,

"Lgt"

])
abbList

.

append([

"Lights"

,

"Lgts"

])
abbList

.

append([

"Loaf"

,

"Lf"

])
abbList

.

append([

"Lock"

,

"Lck"

])
abbList

.

append([

"Locks"

,

"Lcks"

])
abbList

.

append([

"Lodge"

,

"Ldg"

])
abbList

.

append([

"Loop"

,

"Loop"

])
abbList

.

append([

"Mall"

,

"Mall"

])
abbList

.

append([

"Manor"

,

"Mnr"

])
abbList

.

append([

"Manors"

,

"Mnrs"

])
abbList

.

append([

"Meadow"

,

"Mdw"

])
abbList

.

append([

"Meadows"

,

"Mdws"

])
abbList

.

append([

"Mews"

,

"Mews"

])
abbList

.

append([

"Mill"

,

"Ml"

])
abbList

.

append([

"Mills"

,

"Mls"

])
abbList

.

append([

"Mission"

,

"Msn"

])
abbList

.

append([

"Motorway"

,

"Mtwy"

])
abbList

.

append([

"Mount"

,

"Mt"

])
abbList

.

append([

"Mountain"

,

"Mtn"

])
abbList

.

append([

"Mountains"

,

"Mtns"

])
abbList

.

append([

"Neck"

,

"Nck"

])
abbList

.

append([

"Orchard"

,

"Orch"

])
abbList

.

append([

"Oval"

,

"Oval"

])
abbList

.

append([

"Overpass"

,

"Opas"

])
abbList

.

append([

"Park"

,

"Park"

])
abbList

.

append([

"Parks"

,

"Park"

])
abbList

.

append([

"Parkway"

,

"Pkwy"

])
abbList

.

append([

"Parkways"

,

"Pkwy"

])
abbList

.

append([

"Pass"

,

"Pass"

])
abbList

.

append([

"Passage"

,

"Psge"

])
abbList

.

append([

"Path"

,

"Path"

])
abbList

.

append([

"Pike"

,

"Pike"

])
abbList

.

append([

"Pine"

,

"Pne"

])
abbList

.

append([

"Pines"

,

"Pnes"

])
abbList

.

append([

"Place"

,

"Pl"

])
abbList

.

append([

"Plain"

,

"Pln"

])
abbList

.

append([

"Plains"

,

"Plns"

])
abbList

.

append([

"Plaza"

,

"Plz"

])
abbList

.

append([

"Point"

,

"Pt"

])
abbList

.

append([

"Points"

,

"Pts"

])
abbList

.

append([

"Port"

,

"Prt"

])
abbList

.

append([

"Ports"

,

"Prts"

])
abbList

.

append([

"Prairie"

,

"Pr"

])
abbList

.

append([

"Radial"

,

"Radl"

])
abbList

.

append([

"Railroad"

,

"Railroad"

]) 

#Hennepin Specific


abbList

.

append([

"Ramp"

,

"Ramp"

])
abbList

.

append([

"Ranch"

,

"Rnch"

])
abbList

.

append([

"Rapid"

,

"Rpd"

])
abbList

.

append([

"Rapids"

,

"Rpds"

])
abbList

.

append([

"Rest"

,

"Rst"

])
abbList

.

append([

"Ridge"

,

"Rdg"

])
abbList

.

append([

"Ridges"

,

"Rdgs"

])
abbList

.

append([

"Rise"

,

"Rise"

]) 

#Hennepin Specific


abbList

.

append([

"River"

,

"Riv"

])
abbList

.

append([

"Road"

,

"Rd"

])
abbList

.

append([

"Roads"

,

"Rds"

])
abbList

.

append([

"Route"

,

"Rte"

])
abbList

.

append([

"Row"

,

"Row"

])
abbList

.

append([

"Rue"

,

"Rue"

])
abbList

.

append([

"Run"

,

"Run"

])
abbList

.

append([

"Shoal"

,

"Shl"

])
abbList

.

append([

"Shoals"

,

"Shls"

])
abbList

.

append([

"Shore"

,

"Shr"

])
abbList

.

append([

"Shores"

,

"Shrs"

])
abbList

.

append([

"Skies"

,

"Skies"

]) 

#Hennepin Specific


abbList

.

append([

"Skyway"

,

"Skwy"

])
abbList

.

append([

"Spring"

,

"Spg"

])
abbList

.

append([

"Springs"

,

"Spgs"

])
abbList

.

append([

"Spur"

,

"Spur"

])
abbList

.

append([

"Spurs"

,

"Spur"

])
abbList

.

append([

"Square"

,

"Sq"

])
abbList

.

append([

"Squares"

,

"Sqrs"

])
abbList

.

append([

"Station"

,

"Sta"

])
abbList

.

append([

"Stravenue"

,

"Stra"

])
abbList

.

append([

"Stream"

,

"Strm"

])
abbList

.

append([

"Street"

,

"St"

])
abbList

.

append([

"Streets"

,

"Sts"

])
abbList

.

append([

"Summit"

,

"Smt"

])
abbList

.

append([

"Terrace"

,

"Ter"

])
abbList

.

append([

"Throughway"

,

"Trwy"

])
abbList

.

append([

"Trace"

,

"Trce"

])
abbList

.

append([

"Track"

,

"Trak"

])
abbList

.

append([

"Trafficway"

,

"Trfy"

])
abbList

.

append([

"Trail"

,

"Trl"

])
abbList

.

append([

"Tunnel"

,

"Tunl"

])
abbList

.

append([

"Turn"

,

"Turn"

]) 

#Hennepin Specific


abbList

.

append([

"Turnpike"

,

"Tpke"

])
abbList

.

append([

"Underpass"

,

"Upas"

])
abbList

.

append([

"Union"

,

"Un"

])
abbList

.

append([

"Unions"

,

"Uns"

])
abbList

.

append([

"Valley"

,

"Vly"

])
abbList

.

append([

"Valleys"

,

"Vlys"

])
abbList

.

append([

"Viaduct"

,

"Via"

])
abbList

.

append([

"View"

,

"Vw"

])
abbList

.

append([

"Views"

,

"Vws"

])
abbList

.

append([

"Village"

,

"Vlg"

])
abbList

.

append([

"Villages"

,

"Vlgs"

])
abbList

.

append([

"Ville"

,

"Vl"

])
abbList

.

append([

"Vista"

,

"Vis"

])
abbList

.

append([

"Walk"

,

"Walk"

])
abbList

.

append([

"Walks"

,

"Walk"

])
abbList

.

append([

"Wall"

,

"Wall"

])
abbList

.

append([

"Way"

,

"Way"

])
abbList

.

append([

"Ways"

,

"Ways"

])
abbList

.

append([

"Well"

,

"Wl"

])
abbList

.

append([

"Wells"

,

"Wls"

])



#List of changes for [St_POS_Dir]


posDirList 

=

 [[

"North"

,

"N"

],[

"East"

,

"E"

],[

"South"

,

"S"

],[

"West"

,

"W"

],[

"Northeast"

,

"NE"

],[

"Northwest"

,

"NW"

],[

"Southeast"

,

"SE"

],[

"Southwest"

,

"SW"

]]
preDirList 

=

 [[

"North"

,

"N"

],[

"East"

,

"E"

],[

"South"

,

"S"

],[

"West"

,

"W"

]]


############################################




## Read Arguments





if

 (len(sys

.

argv) 

>

 

1

):
    inFC 

=

 sys

.

argv[

1

]



############################################




# General Purpose Functions




def

 

printit

(inputString):
    

try

:
        

print

(inputString)
        arcpy

.

AddMessage(str(inputString))
    

except

:
        

pass





def

 

printerror

(inputString):
    

print

 (inputString)
    arcpy

.

AddError(inputString)



def

 

getField

(inFeatureClass, inFieldName):
  fieldList 

=

 arcpy

.

ListFields(inFeatureClass)
  

for

 iField 

in

 fieldList:
    

if

 iField

.

name

.

lower() 

==

 inFieldName

.

lower():
      

return

 iField
  

return

 None



def

 

fieldExists

(inFeatureClass, inFieldName):
  

return

 getField(inFeatureClass,inFieldName) 

<>

 None



############################################




# Initial QC





def

 

initialQC

():
    

if

 (arcpy

.

Exists(inFC)):
        printit(

"PASS: Feature Class {} Exists"

.

format(inFC))
    

else

:
        printerror(

"ERROR: Feature Class {} Does Not Exist, Cancelling..."

.

format(inFC))
        

return

 False

    

for

 iFld 

in

 requiredFieldList:
        

if

 (fieldExists(inFC,iFld)):
            printit(

"PASS: Feature Class {} Has Field [{}]"

.

format(inFC,iFld))
        

else

:
            printerror(

"ERROR: Feature Class {} Does Not Have Field [{}], Cancelling..."

.

format(inFC,iFld))
            

return

 False

    

if

 

not

 (fieldExists(inFC,newFieldName)):
        printit(

"GOOD: Feature Class {} Does Not Already Have Field [{}]"

.

format(inFC,newFieldName))
        printit(

" ADDING Field [{}]"

.

format(newFieldName))
        

try

:
            arcpy

.

AddField_management(in_table

=

inFC, field_name

=

newFieldName, field_type

=

"TEXT"

, field_precision

=

""

, field_scale

=

""

, field_length

=

"100"

, field_alias

=

""

, field_is_nullable

=

"NULLABLE"

, field_is_required

=

"NON_REQUIRED"

, field_domain

=

""

)
        

except

:
            printerror(

"ERROR: Error While Adding Field [{}], Cancelling..."

.

format(newFieldName))
            

return

 False
        

if

 

not

 (fieldExists(inFC,newFieldName)):
            printerror(

"ERROR: Unable to Add Field [{}], Cancelling..."

.

format(newFieldName))
            

return

 False
    

else

:
        printerror(

"ERROR: Feature Class {} Already Has Field [{}], Cancelling..."

.

format(inFC,newFieldName))
        

return

 False

    

return

 True



############################################




# Main





def

 

makeSubstitution

(inList,inValue,inFieldName):
    

for

 iAbbreviationPr 

in

 inList:
        

if

 (inValue 

==

 iAbbreviationPr[

0

]): 

#Found a Match


            

return

 iAbbreviationPr[

1

]
    printit(

"WARNING: [{}] of {} does not have a value in the abbreviation list! Potential Error..."

.

format(inFieldName,inValue))
    

return

 inValue



def

 

main

():
    cursorFieldList 

=

 requiredFieldList
    cursorFieldList

.

append(newFieldName)

    

try

:
        iUCursor 

=

 arcpy

.

da

.

UpdateCursor(inFC,cursorFieldList)
        iRowCount 

=

 

0


        iRowMax 

=

 

1


        

for

 uRow 

in

 iUCursor:

            

#Just to give user an indicator that progress is being made


            

if

 (iRowCount 

>

 iRowMax):
                printit(

" {}"

.

format(iRowCount))
                iRowMax 

*=

 

10


                iRowCount

+=

1



            abbreviateConcatenatedName 

=

 

""


            iFldIndex 

=

 

0


            

for

 iFld 

in

 requiredFieldList:


                

if

 (iFld 

==

 newFieldName):
                    uRow[iFldIndex] 

=

 abbreviateConcatenatedName
                    iUCursor

.

updateRow(uRow)
                

else

:
                    iValue 

=

 uRow[iFldIndex]

.

strip() 

#Strip is just a safe-guard




                    

if

 ((iValue 

!=

 

""

) 

and

 (iValue 

!=

 None)):
                        

if

 (iFld 

==

 

"ST_PRE_DIR"

):
                            iValue

=

 makeSubstitution(preDirList,iValue,

"ST_PRE_DIR"

)
                        

if

 (iFld 

==

 

"ST_POS_TYP"

):
                            iValue

=

 makeSubstitution(abbList,iValue,

"ST_POS_TYPE"

)
                        

if

 (iFld 

==

 

"ST_POS_DIR"

):
                            iValue 

=

 makeSubstitution(posDirList,iValue,

"ST_POS_DIR"

)

                        

if

 (abbreviateConcatenatedName 

==

 

""

):
                            abbreviateConcatenatedName 

=

 iValue
                        

else

:
                            abbreviateConcatenatedName

+=

" "

+

iValue
                iFldIndex 

+=

 

1



        

del

 iUCursor
    

except

 

RuntimeError

 

as

 e:
        printerror(

"ERROR: Error {} Occurred, Cancelling..."

.

format(e))
        

try

:
            

del

 iUCursor
            

del

 uRow
        

except

:
            

return

 False
    

return

 True




if

 __name__ 

==

 

'__main__'

:
    

if

 (initialQC() 

==

 True):
        

if

 (main() 

==

 True):
            printit(

"Done!"

)